The construction industry is a labor-intensive sector that requires companies to deploy their talents effectively at project sites to ensure datelines are met and operations go smoothly. Similar to other countries, Australia's construction workforce is made up of both local and international talent who require licenses and permits to work on local projects. Managing the construction workforce is, therefore, a key element in successful companies looking to make the most out of their pool of talent.
While there are many facets to effectively managing labour such as scheduling, training, monitoring, and ensuring worker safety, all construction companies have one thing in common. Firms that operate in Australia, or any part of the world, in fact, must be able to manage their people in terms of meeting regulatory requirements and ensure all site workers on their payroll comply with necessary certifications criteria.
In Australia, each individual state has specific requirements for contractors looking to obtain licenses to operate, and these range from education and experience to numerous references and financial resources. Knowing what is required in terms of the currently available workforce will help secure various builders licenses and only then will companies be allowed to work on projects with full compliance. For example, crane operators are required to go through a training course before being allowed to undertake any form of commercial crane operation.
However, the tedious and time-consuming manual approach of managing different areas of their workforce such as productivity, authorisation, certification, onboarding, and safety has failed to help project managers document any form of information effectively. Therefore, in this article, we will discuss how an IoT solution can help in managing the construction workforce and ensure it is in compliance with today's regulatory requirements.
The challenge: risk of workforce mismanagement
An ever-changing workforce often provides the required manpower in construction projects, with different skill-sets and at different times. Workers in smaller firms come and go, depending on the number of projects at hand and the required amount of specific talent. This contractual-based operational model makes keeping track of site workers rather difficult and time-consuming. Not to mention that most traditional approaches to centralizing workforce management have been prone to human errors and are easily made irrelevant due to heavy reliance on manual inputs.
Certification and credentials are key ammunition for anyone in the construction industry as it proves existing knowledge and experience in being able to handle specific jobs. It is imperative for project stakeholders to constantly keep track of the workers' industry accreditations and licenses not only to ensure compliance but to get a clearer view of their workforce capabilities and capacity to deal with certain aspects of a project. Imagine overlooking the credentials of a young worker and wrongly assigning a major supervisorial role for a key project workflow. This may end up being disastrous for companies looking to get projects done on time as he/she may lack the necessary experience and training.
Keeping tabs on the workforce also includes knowing their ability to handle certain machinery and equipment. Some companies have specific approval processes for workers to handle and use highly risky assets. Companies that have zero knowledge of the experiences of on-site workers, run the risk of having them operate a piece of equipment that requires specific skills and causing damages not only to themselves but also to the entire project. This could lead to even further slowdowns in progress and collateral effects on project financials.
For all projects, workers are expected to be productive and spend all working hours completing daily tasks. Most often than not, this is not the case. Companies have a hard time knowing where their workers are on large project sites and even do daily attendance checks. There is a serious lack of real-time activity monitoring in performance management, which in hindsight could accelerate the meeting of KPIs and ensure that workers clock in and out on time. Lack of such visibility on workforce utilisation not only endangers the progress of the entire project but leads to poorer ability to take on new projects in the future.
How can we leverage IoT to overcome the challenges?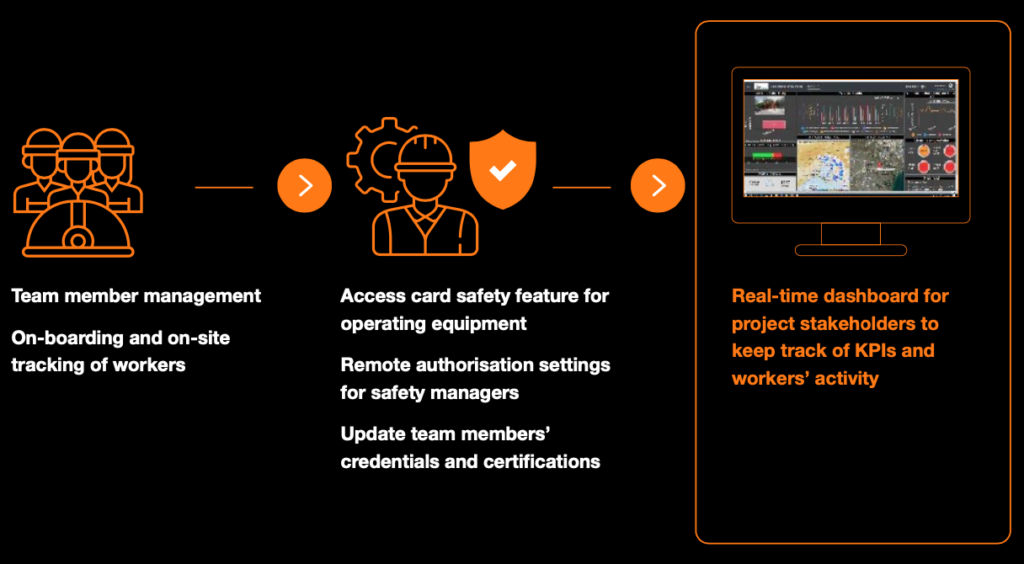 3 key wins for your project:
Better insights on construction workers to minimise compliance risks.
Simplifies the workload for safety managers significantly, allowing them to focus properly on meeting safety KPIs.
Provide a digitalised process for monitoring the workers from onboarding to updating and tracking staff credentials.