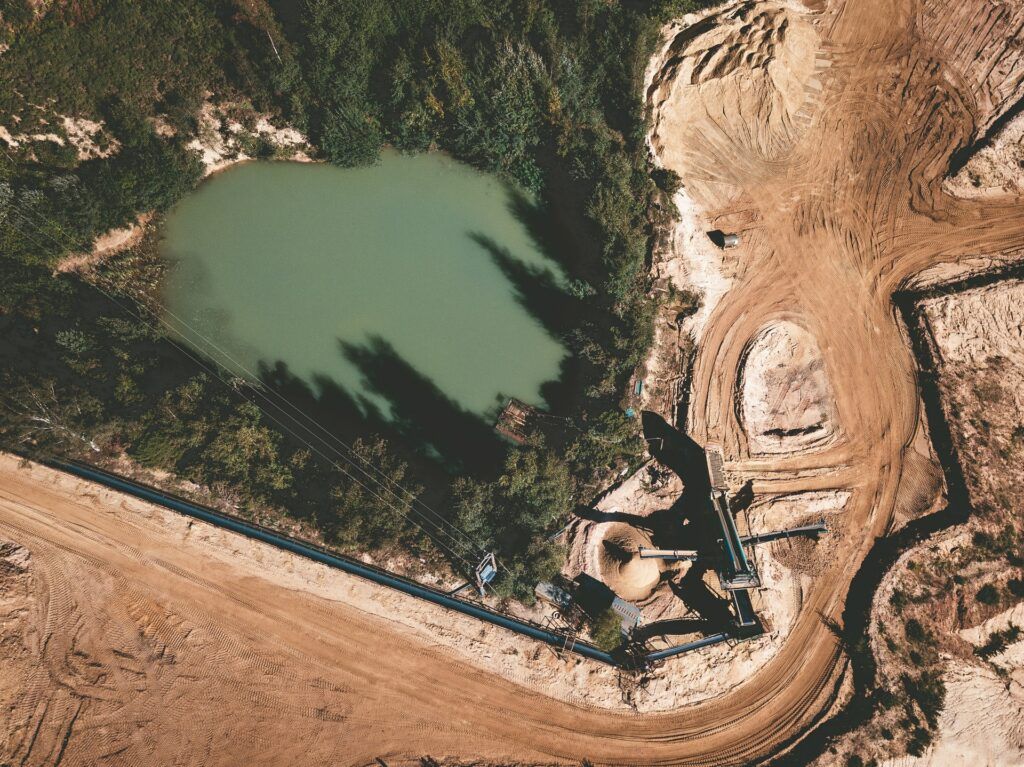 Over the past decade, environmental issues have been gaining serious attention from governments and corporations around the world in various industries including energy, transport, manufacturing, and even construction. Industry stakeholders and current practices in construction firms have come under the spotlight as regulators desperately aim to reduce what is labeled as construction and demolition waste (C&DW), one of the three main categories of waste in Australia.
The piles of leftovers that are abandoned by commercial and more severely by large-scale infrastructure projects are often partially recovered by the responsible parties, leaving the rest to cleaning authorities while slowly turning into a breeding ground for other forms of trash and diseases. In fact, it is worrying to see that more than 27 million tonnes of C&DW were generated in 2018-2019 and only about 60% of this waste stream is recovered.1 This recovery rate is significantly lower than many other developed nations and is something to pay attention to as the generation of C&DW will only increase in the future.
Construction companies nowadays are expected to not only better manage the amount of general waste that is produced by each project but to monitor more specific environmental impacts, such as sound and noise pollution as well as micro-dust emissions. Construction sites of the future are ones that collect all forms of data, not only of what is on-site but of its surrounding environment. This ability to monitor the various natural elements allows project teams to make informed decisions based on real-time environment data and more importantly, comply with the ever-tightening regulations and permits.
As construction sites gain greater detail into their surroundings, they will begin to realize endless new opportunities to unlock productivity gains and become more environmentally friendly. Thus, in this article, we will discuss how IoT solutions help industry players enable remote monitoring and enhance their level of control over hidden environmental impact.
The challenge: coping with environmental regulations
In Australia, the Environment Protection Authority (EPA) has been making efforts to improve regulation and enforceability to strip environmental offenders from their license to operate in the construction industry. In 2018, more than 60 prosecutions were taken against environmental criminals, with more than A$833,000 in penalties being sanctioned.2 It was also in the same year that the first custodial sentence was served under the new anti-dumping law, where the offenders were sentenced to three years in prison for illegally disposing of 461 tonnes of waste that contained asbestos.2
Since then, the EPA has only increased maximum penalties for unlawful disposing of waste by taking into consideration the monetary benefits that offenders gain for committing such offenses. Companies today are not oblivious to ESG regulations and have even put in multi-layered processes to manage their waste to reduce the risk of being penalized. However, they often lack visibility on environmental aspects in their project sites and run the risk of overlooking these elements to the point that they overstep a few boundaries.
Another focal point for construction sites and supervisors to keep an eye on is dust pollution. Airborne particles that are produced from on-site activities severely affect surrounding air quality and have negative effects on the general health of both project workers as well as the public. In order to protect the quality of life surrounding these construction sites, Australia's Department of Water and Environmental Regulation (DWER) generally regulates dust emissions by considering these 4 factors3:
amount of dust being emitted
duration and rate of emission and the dust's characteristics and qualities
sensitivity of the environment into which the dust is being emitted and;
the impact the dust emission has caused.
Most project sites rely on traditional methods such as screens and covers, water, and less environmentally hazardous materials to mitigate microdust and debris emissions. Even with these preventive efforts, they lack the ability to track and monitor these pollutants in real-time; meaning that they are always one step behind in every project and its sustainability objectives.
Construction companies that want to take charge of environmental elements of their sites are, however, limited by traditional equipment is often non-scalable and is expensive. They lack the ability to monitor noise levels, making it difficult for construction projects to adhere to the regulations. EPA regulates noise from licensed construction and industrial premises through a qualified workforce equipped with technical capabilities and equipment. Outdoor microphones, integrated weather stations, remote management and download, and solar backup power, are often used to measure and analyse noise limits to support subsequent regulatory decisions.
They are said to receive about 3,000 calls a year from the public regarding noise complaints.4 Without the right tools in place, companies often find themselves vulnerable to these compliance issues and new regulations such as the Construction Noise Guideline. Companies that underestimated these penalties could face a hefty cost that will drastically affect their project's cash flow and could even face backlash over their industry reputation, leading to fewer projects in the future.
How can we leverage IoT to overcome the challenges?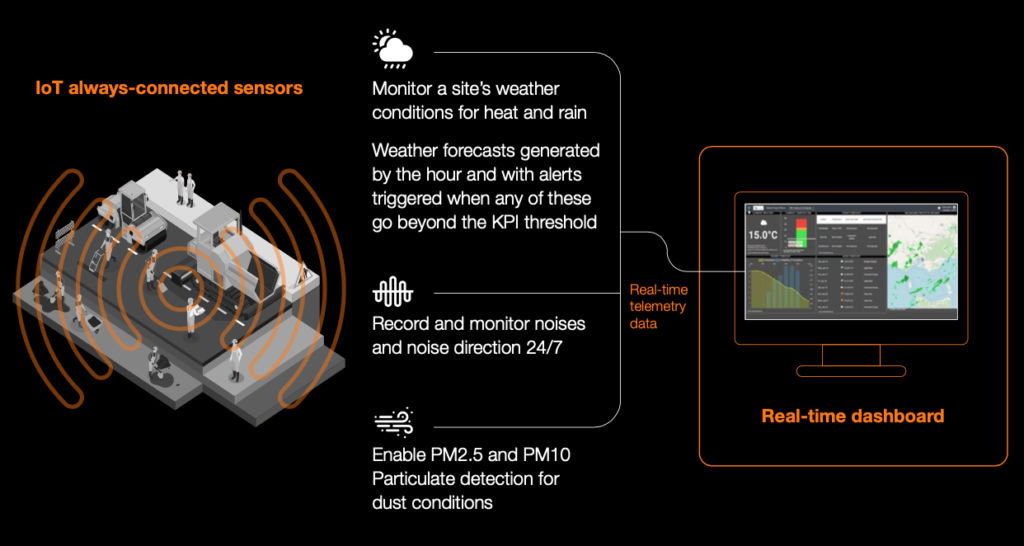 3 improvements to your projects
Provide a more extensive network of sensors to monitor noise and dust levels accurately and at lower costs.
Real-time data tracking and storage to assist in regulatory compliance.
Assures companies against any false accusations that may trigger large regulatory fines and confiscation of licenses and permits.
Sources
Kabirifar,K.;Mojtahedi,M.; Wang, C.C. A Systematic Review of Construction and Demolition Waste Management in Australia: Current Practices and Challenges. Recycling 2021, 6, 34. https://doi.org/10.3390/ recycling6020034
NSW EPA, New powers and penalties to combat environmental crime, https://www.epa.nsw.gov.au/newsletters/epa-connect-newsletter/summer-december-2018/3-new-powers-and-penalties-combat-environmental-crime
Government of Western Australia, Department of Water and Environmental Regulation, Reporting dust pollution, https://www.der.wa.gov.au/your-environment/reporting-pollution/reporting-dust-pollution
NSW EPA, Loud lawnmowers and clanking construction – who to call?, https://www.epa.nsw.gov.au/newsletters/epa-connect-newsletter/august-2021/loud-lawnmowers-or-clanking-construction—who-to-call