Industry Overview
With annual revenue reaching over A$360 billion (US$ 268 billion) in 2019[i], the infrastructure building industry is one of the biggest segments in terms of GDP contribution in Australia. For the past ten years, this figure hovers in the range of 6-9% per annum[ii]. It is the largest non-service-related industry in terms of providing employment opportunities, behind only healthcare and retail trades. In 2021, there are now over 360,000 engineering companies and businesses in Australia employing over 1.1 million Aussies. This amounts to roughly 8-9% of the country islands' total workforce[iii].
This economically important industry mostly consists of locally owned small to medium businesses. They normally employ fewer than 20 employees and serve the domestic demand for engineering construction (major infrastructures), specialised industrial (oil refineries, power plants), residential buildings (offices, shops, hotels) and non-residential buildings (houses, flats). Out of those four categories, engineering construction is by far the largest sector in terms of total real value and the volume of construction work done.
According to the Australian Industry and Skills Committee, despite COVID-19 lockdowns, the annual growth rate of the construction industry is projected to average at 2.4% over the next five years (2020-2025).
Infrastructure and specialised industry constructions continue to surge
In recent years, residential projects have slowed down due to market oversupply and the shrinking demand from local and foreign investors. Coupled with restrictive lending and falling property prices, the 2019 construction GDP growth fell to 1.8% from 2.7% in 2018. On the flip side, expenditures on engineering development projects have experienced significant and sustained increases as public investments start to pour in. This shift results in an uptrend for infrastructure projects, such as roads, engineering constructions and heavy industry, and pushes demand for construction materials that are imported mainly from China (over 60%).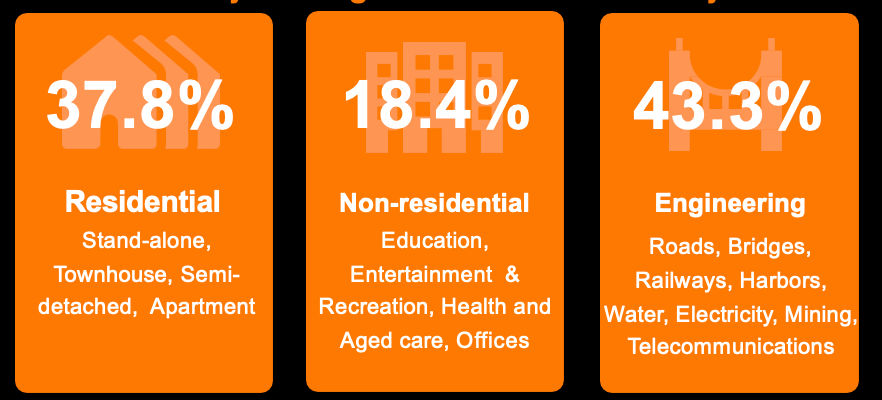 Key drivers fuelling the industry growth
Australia expects a population growth of 24%, growing from 25.4 million in 2019 and may possibly reach 31.4 million by 2034. Hence, infrastructure development is imperative for the nation to keep pace with the rising pressure to replace ageing assets, minimise road congestion, reduce crowding on public transportation and meet the growing demand for social infrastructure (this includes health, education, and green space). This natural phenomenon invites the response of Australia's construction industry, which in hindsight, will help spur economic growth over the short to long term. The Australian government will look to encourage participation from both the public and private sectors as it prepares to accelerate infrastructure projects with a priority list of "fast-track" approval projects in all states.
Before 2020, the Australian federal and state government pledged multiple budgets, costing billions of Australian dollars on infrastructure expenditure as a way to stimulate job creation further. The government's commitment to launching mega-projects has provided lucrative business opportunities to the construction industry. It is now prime time for several home-grown EPC (engineering, procurement, construction) groups to partner with established overseas companies to address any infrastructure capability gaps.
Lighting the path to economic recovery from COVID-19
When the COVID-19 pandemic hit, most businesses in Australia suffered from the severe impacts of snap lockdowns and strict movement restrictions. The nation has since recorded the worst economic downturn over the past decade. To spur revitalisation in the construction industry, the Australian government has committed A$110 billion (US$ 80 billion)for a 10-year infrastructure pipeline — a major part of its National Economic Recovery Plan[iv].
During the unveiling of the new 2021 – 2022 Federal Budget, Deputy Prime Minister and Minister for Infrastructure, Transport and Regional Development, Michael McCormack said that
"The objective is to secure Australia's economic recovery by delivering nation-building infrastructure projects, water security to inland Australia, meeting the national freight challenge and getting Australians home sooner and safer."
This reflects a proactive approach to tackle the demand for more infrastructure as Australia slowly moves towards co-living with the virus and loosening lockdowns in the future.
In the same announcement, the federal government has decided to allocate an additional A$15.2 billion (US$ 11.3 billion) for infrastructure expenditure as it makes new commitments to spur the growth of the building industry as well as support an estimated 30,000 new jobs. For more information about the new Federal Budget and other infrastructure-related measures, click here.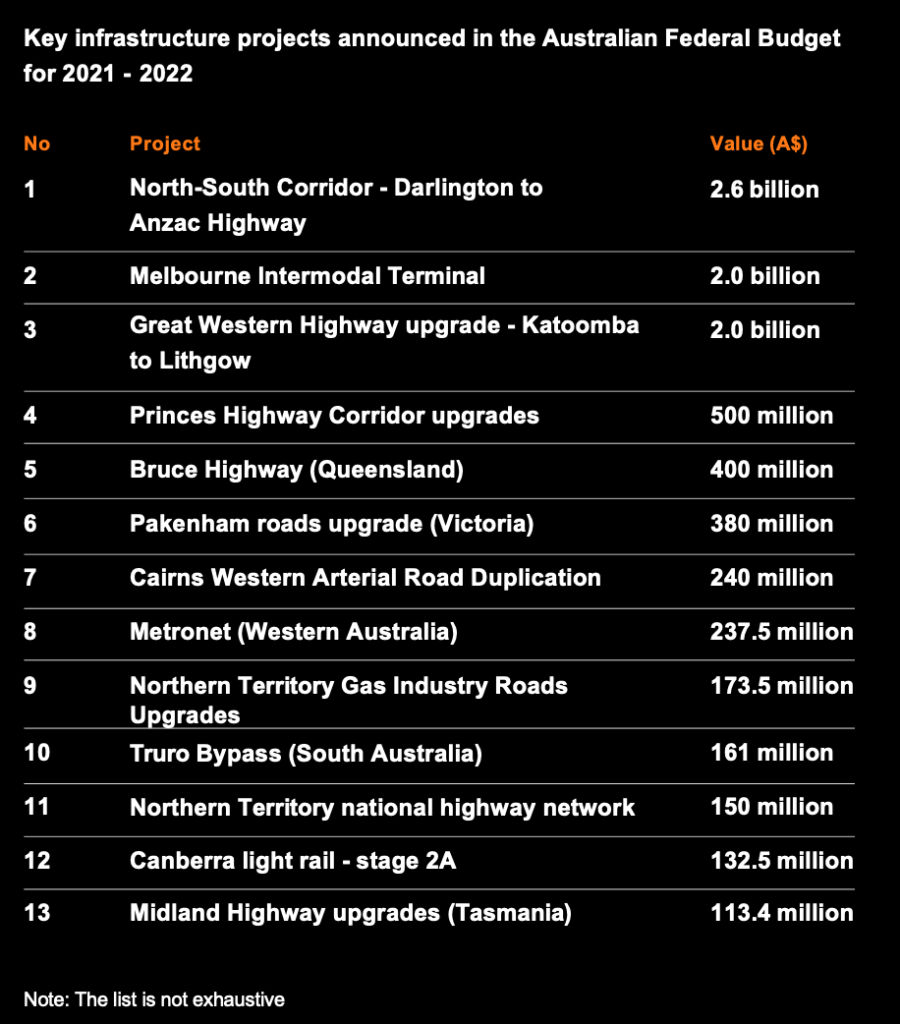 Future trends shaping the Australian construction industry
One thing that the pandemic has taught countries around the world is the need to be ever ready for the future. Governments, despite differences in geographic and socio-economic factors, cannot ignore the fact that digital technology has a role to play in the success of every industry. Therefore, as Australians start returning to the 'new norm', the construction industry must adopt a dynamic stance and master the use of digital tools to ensure a robust infrastructure landscape for the future.
Modularisation and prefabricated buildings — prefabricated buildings and components are matters that have been manufactured in a factory before their final assembly at the construction site. In contrast, modular buildings are built and organised in self-contained units, similar to building blocks. These two terms are often used in harmony as the construction industry strives for faster, less wasteful and safer methods of operations. In 2018, Australia only had 3-4% of new projects constructed with prefabricated buildings in a year[v].
Digitalised and automated construction processes — with 3D printing and other technology taking up headlines worldwide, the construction industry remains minimally digitalised. As technology begins to revolutionise this traditional sector, it won't be long before we see the wide use of automated personnel management, AI-enabled sites, AR/VR-based BIM, real-time building analytics, and many others. As with all other beneficiaries of technology's vast potential, the construction industry may soon see improved safety, reduced operations cost, time efficiency, and better productivity.
Green and sustainable construction projects — as global attention on environmental health starts to reshape industries, the Australian construction sector is taking a proactive approach in dealing with a new face of the built environment. With new updates to the green building standard (known as Green Star) launched by the Green Building Council of Australia (GBCA)[vi], Aussies can expect more sustainable architecture like The Council House 2, One Central Park, 25 King and Nightingale 1. This will help reduce the impact of the climate crisis further and support the vision of sustainable buildings for everyone, everywhere.
Despite the overall industry growth, there are still existing challenges pressuring stakeholders and prioritising solving them will be the key to build a stronger outlook.
Find out what these industry challenges are in this next article.
Endnotes
[i] Australian Industry and Skills Committee (2021, July 5) Construction Industry Overview.
https://nationalindustryinsights.aisc.net.au/industries/construction
[ii] Twimbit & Australian Bureau of Statistics (2010 – 2020) Construction Work Done.
https://www.abs.gov.au/statistics/industry/building-and-construction/construction-work-done-australia-preliminary
[iii] Australia Labour Market Information Portal (2021, May) Construction Industry Regional Data
https://lmip.gov.au/default.aspx?LMIP/GainInsights/IndustryInformation/Construction
[iv] Australian Government, Department of Infrastructure, Transport, Regional Development and Communications (2021, August 26) Budget Announcements
https://investment.infrastructure.gov.au/about/budget.aspx
[v] Navaratnam, Satheeskumar & Ngo, Tuan & Gunawardena, Tharaka & Henderson, David. (2019). Performance Review of Prefabricated Building Systems and Future Research in Australia. Buildings. 2019. 38. 10.3390/buildings9020038.
[vi] Green Building Council of Australia (2021, August 31) Technical Manuals
https://www.gbca.org.au/shop/?_ga=2.128048460.1997866392.1631671640-1575082006.1631671640