According to McKinsey's Global Institute Industry Digitization Index, the construction industry is among the slowest to digitise, innovate, and disrupt best practices with digital technologies. The consensus is that companies are hesitant to embrace these modern propositions that require significant upfront investments, even though they might experience greater benefits in the long term.
However, we are beginning to see a shift in the industry's appetite for innovation. For example, a Deloitte research on engineering and construction (E&C) firms shows that 76% of executives express a high probability of investing in at least one new digital technology in 2021.[i] In addition, IFS found that more than 75% of E&C firms planned to increase their digital transformation spending, even during the pandemic.[ii] 
As the industry progresses towards IR 4.0 and adopts new technologies, we have begun to see the rise of Internet-of-Things (IoT) being tested and implemented directly on construction sites. This integration enables what is known as a Connected Site.

With the help of sensors, monitors, and cameras, a standard construction site experiences an upgrade in efficiency and transparency of information. As a result, the many facets of large construction projects – asset and inventory, fleet, personnel, safety, and environmental management are infused with a dose of intelligence and allow for more informed, iterative, collaborative, and agile decision making.
Connected construction site at-a-glance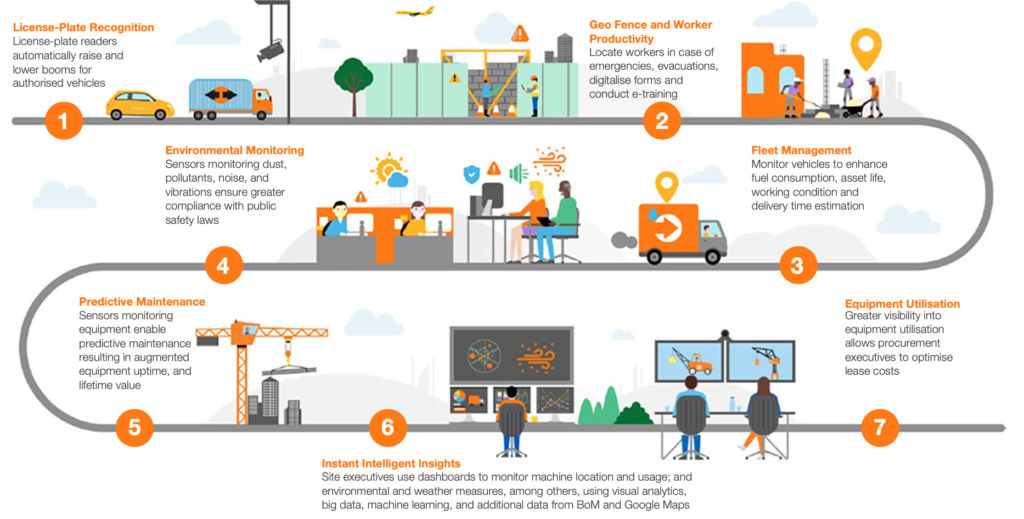 A project site of the future would be fully interconnected, right from the entrance. License-plate recognition, geofencing, fleet management, intelligent site insights, and other technology-enabled functions will allow workers and managers to work together more efficiently and better utilize limited resources such as labour. According to Deloitte, connected construction will bring together an ecosystem of connected job sites, people, machines in a dynamic "always-on" network that provides a continuous flow of information.
Building competitive advantages with Connected Sites
Connected Sites form the foundation of the future construction industry. Despite requiring heavy upfront investment, E&C companies that embrace a technology-driven approach at an early phase will be able to stand out of the crowd. For other companies who are slightly more cautious about hopping on the bandwagon, the industry's digital future will provide limitless opportunities and the kind of benefits include:
Reducing the instance of cost overrun by limiting operational variables and minimising compliance risks that can lead to unforeseen costs
Boosting productivity by improving utilisation and the run time of key assets while building an optimised supply chain
Minimising the impact of operational issues through prediction, real-time alerts, and process automation
Enhancing worksite safety and regulatory compliance through monitoring and early detection of risk factors
Improving decision-making through data-driven insights and analysis
Key considerations for adopting a connected site solution
Future proof workforce — hire and upskill your workers in terms of technological know-how. It is not good enough for you to have a skilled workforce that are experts at manual work. Ensure that current and future employees have agile work methodologies and are ready to use advanced technologies to operate in new ways.
Redesign business and operating model — with new technologies coming into play, readjust your mindset and business plans to take advantage of new opportunities. You can experiment with creating integrated offerings, new channels, and innovating pricing plans to deliver exponential growth in the quality of revenue.
Proper planning and management — while technology might offer greater efficiency and cost savings, your team will be burdened if there is no structure around collaborations across projects. Assign new roles and teams to champion technology integration and ensure that operational changes cater to accommodate end-to-end digitalised processes.
Learn more about Connected Sites and how they work here.
Endnotes
[i] Deloitte (2020, November) 2021 Engineering and construction industry outlook
https://www2.deloitte.com/content/dam/Deloitte/us/Documents/energy-resources/us-2021-engineering-construction-industry-outlook.pdf
[ii] IFS (2020, November) Digital Transformation Investment in 2020 and Beyond: The Undeniable People Factor
https://www.enr.com/articles/50588-percent-of-your-competitors-are-increasing-digital-transformation-spend-heres-how-you-can-respond